Door County Music Scene Part 2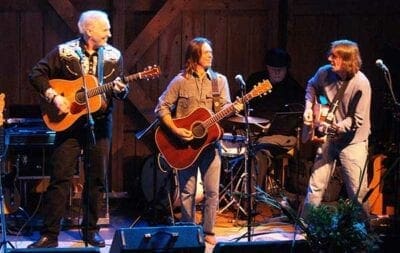 The last time we chatted, we were exploring some of the larger live music venues in the county. Sometimes though, it's more enjoyable to hang out in a place that is a little smaller and more intimate. A place where the performers are close up and personal rather than high up and far away. By now you have a comfy room at Julie's Motel, a fabulous condo at Evergreen Hill, or a perfect cottage at Countryside all conveniently located in Fish Creek. Your every breakfast and lunch need is taken care of at Julie's Park Café. Now, on to the music!! Let's start in Fish Creek…
Located in a 100 year-old, renovated Door County barn, FISHSTOCK has indoor and outdoor stages and concerts take place on Sunday evenings. Fishstock says, "Both concert areas feature independent, state-of-the-art lighting and sound systems, creating a personal and rustic setting for performers and audiences alike." Offering performances by artists like Will Kruger, Michael P. Smith, the Caravan Gypsy Swing Ensemble, and John Ford-Coley, FISHSTOCK your Sunday evening music headquarters. Check out their website at: www.fishstockmusic.com.
Across the Peninsula, you will find Door County Brewing Company in Baileys Harbor. Their tap room and music hall offers locally brewed, cold beer and red hot music. Stop by on a Friday or Saturday night for a brew and great sounds. Get the info at their website: www.doorcountybrewingco.com.
Over in Egg Harbor, you will find the Woodwalk Gallery. In addition to visual arts, they offer a concert series running from mid-June through early September. Headed up by local singer-songwriter Jeanne Kuhns, she brings her talent, that of her band Small Forest, and a host of other gifted singer-songwriters. Woodwalk Gallery says, "Enjoy everything from Bluegrass to solo cello, western swing to haunting harmonies in the amazing acoustics of the Woodwalk Gallery Barn." For the whole scoop, go to: www.woodwalkgallery.com/concerts/.
Looking for a glass of vino to go with your live music? Look no further than Simon Creek Vineyard and Winery, located just south of Sturgeon Bay. In addition to tours of the winery and a tasting room with their award-winning wines, Simon Creek offers free live music on their deck Sundays and select Saturdays through the summer. Enjoy an eclectic mix of musical styles in a stunning natural setting. Look for all you need to know at: www.simoncreekvineyard.com/.
Out on County Road CC in Sturgeon Bay, you will find The Fiddler's Farm. A family and leashed-pet friendly venue, "The Fiddler's Farm is dedicated to bringing Door County Wisconsin a quality, Branson-Style music show." Great musicians perform in a barn over 100 years old, offering a mix of Classic County, Bluegrass, and Western swing. Shows happen on Saturday nights from summer through early fall. For everything you need to know about The Fiddler's Farm, head to: https://www.thefiddlersfarm.com/music-shows.
When the music is done, but you aren't ready for bed yet, go straight back to Fish Creek and stop by Sweetness. Door County's very first dessert and wine bar. Operating out of Julie's Park Café, Sweetness is open every night except Tuesday from 5:30-11:00pm. Chef Trevor Treml creates incredible desserts made from scratch, along with specially chosen wines, craft cocktails, and coffees. When you are finished with the tunes, have a taste of Sweetness!
See you next time with more of the best Door County information!!