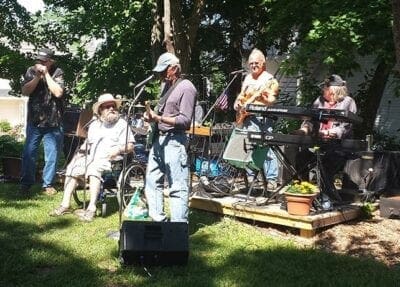 The Door County Music Scene Part 1
When we wrapped up last time, you had all the information necessary to enjoy the ultimate in live theater experiences in Door County. Now it's the moment to explore some of the huge variety of music just waiting to be heard! Hopefully you are comfortably settled in a beautiful room Julie's Motel, a well-appointed condo at Evergreen Hill, or a comfortable cottage at Countryside. You have your delicious breakfasts and lunches taken care of at Julie's Park Café. So let's get ready to explore the Door County music scene…
One of the easiest ways to enjoy great live music in the great outdoors is The Outdoor Music Series. The towns of Sturgeon Bay, Egg Harbor, Fish Creek, Baileys Harbor, Ephraim, and Sister Bay all offer concerts in the park on early weeknights through the summer. Local, regional and national musicians perform everything from rock to bluegrass, jazz to country and everything in between. Bring chairs, some snacks and beverages and enjoy an outstanding musical experience, surrounded by the unique natural beauty that makes Door County the best vacation spot in the nation! For more information, check out: www.doorcounty.com/experience/music/
For some of the finest in indoor music look no farther that the Door Community Auditorium. With musical performances spanning the decades and from cultures from all around the world, the auditorium offers an incredibly diverse selection of entertainment. An added bonus is The Link Gallery, Your ticket to all the wonder that's waiting at the DCA can be found at: www.dcauditorium.org/.
Take a ferry ride across Death's Door to Washington Island and the find the Trueblood Performing Arts Center. Considered a multi-purpose, performing arts venue, the Trueblood has music and so much more. There is definitely music happening over there, but you can also enjoy live theater, movies and some entertaining educational programs. For a real taste of the Island, follow the link to: www.truebloodpac.com/. Before purchasing event tickets, it's always a good idea to check to ferry schedule, unless you plan to stay overnight.
If classical music is what you crave, Midsummer's Music has what you need. Their goal is to provide distinctive and "diverse cultural, historical and scenic musical experiences with their series of 40 concerts in unique venues." Midsummer's Music offers classical chamber music by Mozart, Mendelssohn, Brahms and the world's other great composers. For some unforgettable musical moments, go to: www.midsummersmusic.com/.
One of Door County's most exceptional music venue's, Birch Creek Music Performance Center, also provides a one-of-a-kind education for some of the country's most talented young musicians. Students gather from across the nation at this elite summer music academy. The professional faculty teach and perform at some of the finest music schools in America. Together the staff and students perform 30 concerts at the historic Dutton Barn in Egg Harbor and 30 outreach concerts around Door County during the summer season. Look for concert information at: www.birchcreek.org/.
When the concerts are over, don't forget to stop by Sweetness. Located at Julie's Park Café in Fish Creek and open from 5:30pm-11:00pm, every night but Tuesday, Sweetness is Door County's very first dessert and wine bar. Chef Trevor Treml creates exquisite desserts made from scratch, along with specially chosen wines, craft cocktails, and coffees. It's the perfect way to end your evenings of marvelous music!
Stay tuned for next time as we explore more of the Door County music scene and see what's happening at some of the smaller venues around the Peninsula…