Take a Walk on the Wild(ish) Side: Enjoying Experiences with Animals in Door County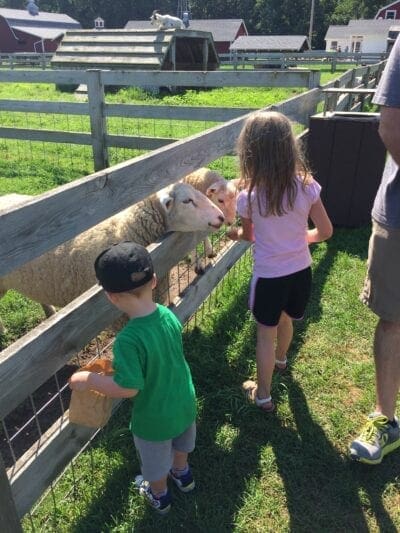 Door County never seems to run out of things for visitors to do! Are you an animal lover? Yep, there are experiences waiting for you here on the peninsula. From tamest of farm critters to a visit with camels, a chance to mingle with our animal friends is waiting for you.
First things first…find yourself the perfect place to stay. Julie's Motel in downtown Fish Creek has it all. Solid, clean comfort in the ideal location. For you animal lovers, your furry family members are welcome too! This is also true at Countryside Cottages, a short hop down County Road F. Don't forget about the elegance of an Evergreen Hill condominium. Enjoy breakfast and lunch on the patio at Julie's Café, where your favorite furry friend can join you!
Located four miles north of Sturgeon Bay, on highway 57, The Farm is a "living museum of rural America". Operating daily from Memorial Day weekend to mid-October, The Farm is an opportunity for children and adults to get up close and personal with farm life and farm animals. It offers authentic farm buildings like a granary, stables, machine shed, and a sugar shack, as well as horses, cows, sheep, goats, chickens, turkeys, kittens, doves, and rabbits. Add beautiful grounds and the Barn Gift Shop, and you have an entire day of fun and learning about life on a working Door County farm. For everything you need to know about The Farm, go to: http://www.thefarmindoorcounty.com
For a slightly different experience with farm animals, head to Plum Loco Animal Farm on Plum Bottom Road in Egg Harbor. Plum Loco is an animal rescue and sanctuary and a permanent and loving home to ponies, horses, miniature donkeys, goats, sheep, pot-bellied pigs, chickens, turkeys, geese and miniature horses. The animals relax in enclosures that allow them to approach visitors when they wish, and since animal food is available for purchase at the ticket booth, they usually love to come right up for feeding and petting! A special feature of Plum Loco is the child-sized play farm area, designed for children toddler-aged to third grade. It is a complete play farm village with farm house, barn, a herd of plush stuffed ponies for riding, a general store, farmer's market stand, a 1950's style diner, and a country vet office. There is even an 8-foot table with a miniature farm play set. In addition, there are rustic log gazebos and picnic areas for family relaxation. Plum Loco is a unique family fun experience for animal lovers. Find a trough of information at: www.plumlocoanimalfarm.com.
Ready for a little horseback riding? Head over to Kurtz Corral. In operation since 1960 and still run by the Kurtz Family, Kurtz Corral is located at 5712 Howard Lane in Sturgeon Bay. They offer rides year round with something for every skill level of rider from arena rides, to rides on wooded trails, to wine tour rides. Rides are offered on a first come, first served basis, and reservations are suggested for groups of six or more. For the whole "tail", go to: www.kurtzcorral.com.
When you want something a little more exotic, take a drive up to Sister Bay and visit the Stoneboat Farm. Family owned and operated, Stoneboat Farm offers an interactive and hands-on experience with Bactrian camels. Learn about the culture and history of these amazing animals, including a chance to feed and pet them. The experience includes a tour of the farm and a chance to also meet the alpacas, miniature horses, and ponies. The visit won't be complete until you have your picture taken with a camel! For the entire story, trot over to: www.stoneboatfarmexotics.com.
Door County has enough animal experiences for everyone! Until we chat again, ENJOY!