If it's October, it Must Be Pumpkin Patch!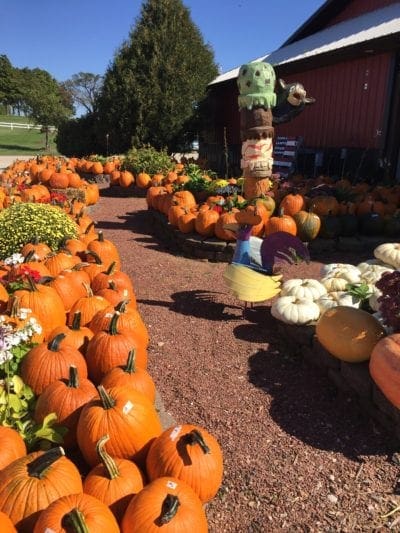 Fall has officially arrived and now our thoughts naturally turn to pumpkins!! More specifically, the Pumpkin Patch Festival in Egg Harbor! Pumpkin Patch weekend is an annual festival taking place in the village of Egg Harbor and celebrating all things fall. Your headquarters for the weekend should be in Fish Creek, where you have the choice of a super comfy room at Julie's Motel right in downtown Fish Creek, a family friendly cottage at Countryside, or an elegant condo at Evergreen Hill. Once you're settled in, head south back to Egg Harbor and get ready for some Pumpkin Patch Festival fun!
Egg Harbor has an interesting history, especially when it comes to the origin of it's name. The most popular story says that way back when, the crew of two ships engaged in a friendly battle in the harbor. Instead of guns, they were said to have had a fight with seagull EGGS and the harbor and the town had a name!! Pumpkin Patch takes place during one of the most beautiful times of the year. Often, the fall colors are peaking and the trees are exploding with color! It's the perfect time of year for this fabulous outdoor Festival.
In 2019, Pumpkin Patch takes place over the weekend of October 12-13. The village closes Highway 42 at the south and north ends of town, allowing visitors to walk freely on both sides and right in the middle of the street. There is no charge for admission to the event. This year there is shuttle service available on Saturday October 12 from 10:00am-6:00pm courtesy of Horse Shoe Bay Farms. Stash your car at Frank Murphy Park, take a tour of the farm if you like, then ride the shuttle into Egg Harbor to enjoy the festival.
The retail shops and restaurants are open in Egg Harbor, show casing the best the town has to offer. Up and down the road and in Harbor View Park, there are food vendors offering everything from brats and burgers to kettle corn and of course beer! For art lovers there are juried arts and crafts vendors at Nicolet Bank. Fans of music can enjoy the sounds of The Modern Day Drifters on Saturday and Big Mouth and the Power Tool Horns on Sunday.
Pumpkin Patch is very family friendly and there are lots of activities for children. Check out the lawn in front of the Kress Pavilion for an inflatable obstacle course, photo backdrop, and free games sponsored by the Egg Harbor Business Association. Head across the street to the Book Nook for a variety of games, crafts, and snacks like rock painting, pumpkin carving demonstrations, and ice cream. There's face painting at both Nicolet Bank and Harborview Park. On Saturday you can see a magician performing at the Egg Harbor Marina and on Sunday there's a children's musician. For the ultimate in entertainment for your little ones, there are carnival rides down at the Marina all weekend. For a full schedule of events, go to: www.eggharbordoorcounty.org/events/pumpkin-patch/