Door County has a lot to offer on New Year's Eve and New Year's Day this year.
While our café isn't open in the evening, we will be open Friday, Saturday, Sunday AND Monday from 6:59 am – 3:01 pm on New Year's weekend. Come see us in Fish Creek for a delicious breakfast or lunch.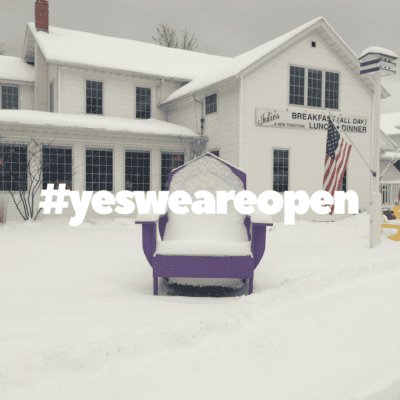 Check out some great events going on New Year's weekend:
Home for the Holidays – Dec 31
4 pm. Warm and whimsical evening of song with holiday classics, original folk tunes, Northern Sky favorites, and plenty of laughs. $24/adults. $14/ages 17 & under.
Cajun Strangers – Dec 31
This accordion and fiddle driven music is a traditional style of music from the Cajun culture of Southwest Louisiana.
Chop in Sister Bay is having Dueling Piano Night – Dec. 31
8pm. Doors open.
9pm. Ring in the New Year with the N.E.W Piano Guys. Visit thechopsisterbay.com to purchase tickets. $27.22/ticket.
New Year's Celebration & Fireworks – Dec 31
8 pm. Ring in 2018 with the county's only New Year's Eve fireworks display. Say goodbye to 2017 with the inaugural Cherry Drop, held by Husby's and the Sister Bay Bowl, Door County's own Times Square ball drop (10:30pm). Visit cometosisterbay.com for more info.
Final Frostbite Open – Jan 1
10am-1:45pm. Register and practice.
2pm. Play begins. Open tournament, anyone can play, no need to qualify. 2 rounds of minigolf played. Hot drinks and chili served. Cash prizes for 1st, 2nd, & 3rd place and Best Single Game. Trophies for all who place. Everyone who completes both rounds receives commemorative bumper sticker. $25 to enter.
Jacksonport Polar Bear Swim – Jan 1
10:30am. Registration opens in the park.
12pm. Join the Jacksonport Polar Bear Club for a brisk dip in Lake Michigan. Bring towels, blankets, warm clothes and anything else you might need to help warm up afterward. Donations to Feed My People will be collected.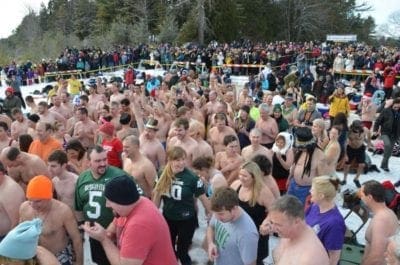 First Day Hike – Jan 1
10 am. Start the new year by getting outdoors with a family friendly trek led by Friends of Peninsula State Park. Meet at Weborg Shelter. About 1-3 miles, trail condition dependent. Warm up with a cup of cocoa in Weborg Shelter afterwards. Dress for the weather, children are welcome with adult supervision but pets are not allowed. Free, but state park vehicle sticker required.
Egg Harbor's New Year's Day Parade – Jan 1
1 pm Egg Harbor's goofy parade rings in the new year with food and warm drinks!