Go Take a Hike: The Very Best Spots in Door County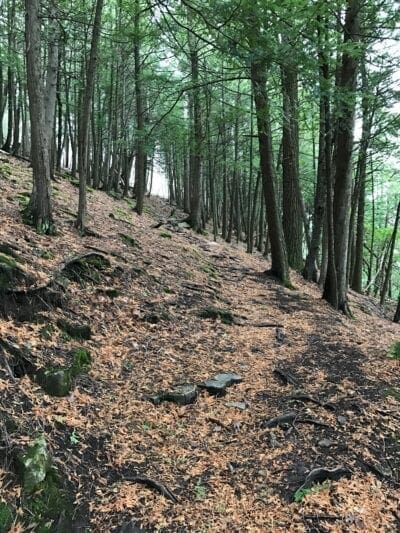 Ahhh, it's a sumptuous summer in Door County. Blue skies, warm temps, and everything is gloriously green and blooming. Here you are on your DC vacation and the best way to enjoy this fabulous time of year is…taking a hike! Luckily, Door County has some of the best hiking in the country, with so many trails that there's something for everyone of every ability. So be sure to fuel up at Julie's Park Café with a substantial breakfast or lunch and get yourself out to one of the exquisite trails to discover your next Door County adventure!
Since you are already staying in Fish Creek at Julie's Motel, an Evergreen Hill Condo, or at Countryside Cottages, you should definitely start at Peninsula State Park. Once there, your most difficult decision will be…where to go first? You'll find trails in the woods, trails along the bluff, and the ever-popular Sunset Bike trail. For a real challenge, try out the Eagle Trail that starts at the bluff top and ends on the shore, with a big descent in the middle. It's the trail of trails!! There is an entrance fee to enjoy the park. To get the whole story on Peninsula State Park, go to: www.dnr.wi.gov/topic/parks/name/peninsula/.
Take a jaunt across the peninsula to Bailey's Harbor and find your way to The Ridges Sanctuary. Founded in 1937 as Wisconsin's first Land Trust, it has grown from the original 30 to 1600 acres of carefully protected eco-system. They offer both self-guided and naturalist guided hikes, with several trails open year-round. The naturalist-led hike gives a two-hour informative trip, suitable for hikers of all ages. There are five distinct areas in The Ridges with a wide variety of trails, including a 1/3-mile boardwalk that is fully accessible. Don't miss a chance to see one of Wisconsin's premier natural areas. There is a small fee for hiking at The Ridges. For a detailed look, go to: www.ridgessanctuary.org/.
With properties all over the peninsula, Door County Land Trust locations offer a huge variety of hiking experiences on every imaginable terrain. From the bluffs to the beaches, from wetlands, ponds and streams to meadows and forests, there is something for every hiker. Each spot is unique, showcasing the exquisite beauty that makes Door County speak to our souls! There are trail maps at each site and guided tours throughout the year. There is no charge for self-guided hikes. All the information you need is at: www.doorcountylandtrust.org/.
Take a trip way up north and discover Newport State Park. It's a 2,373-acre Wisconsin state park at the tip of Door Peninsula near Ellison Bay, Wisconsin. Protecting 11 miles of fabulous shoreline, right along Lake Michigan, Newport is Wisconsin's only wilderness-designated state park. In 2017, the International Dark-Sky Association named Newport a Dark-sky preserve, so plan to stay after sunset and watch the skies! It is necessary to purchase a vehicle sticker to enter the park. Everything you need to know about Newport State Park is at: https://dnr.wi.gov/topic/parks/name/newport/.
On your way back down from Newport, make a stop at Ellison Bay Bluff State Natural Area. Nothing beats the view and there are excellent hiking trails to boot! According to the Wisconsin DNR, "Ellison Bluff features a densely wooded two-tiered rock terrace — part of the larger Niagara Escarpment rock formation that stretches and winds though the site providing spectacular views from the bluff tops. Extending from New York, into Wisconsin and forming the Door Peninsula, the limestone-capped Niagara Escarpment was formed through sediment deposition of inland seas more than 425 million years ago." A trip to Ellison Bay Bluff also offers an incredibly diverse setting of woods and native plants. And did I mention the view??? There is no charge to visit Ellison Bay Bluff. Check it all out at: https://dnr.wi.gov/topic/Lands/naturalareas/index.asp?SNA=378 .
At the end of a day of hiking, whether it's been a leisurely stroll or a challenging climb, be sure and stop by Sweetness for a made-from-scratch dessert paired with the perfect wine, craft cocktail, or impeccably brewed coffee treat. Sweetness is located at Julie's Park Café from 5:30pm-11:00pm every day except Tuesday. Happy Hiking everybody!!