Eat Local: Door County Farmers Markets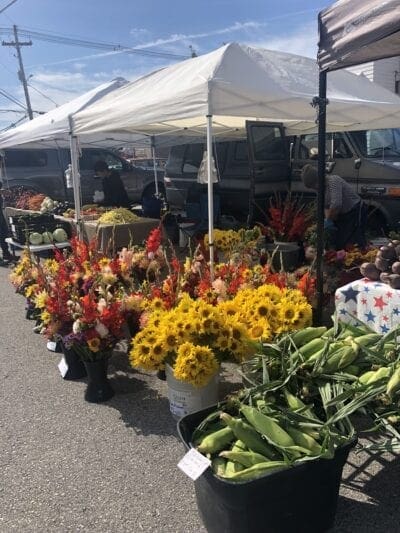 This time of year is a very delicate balance. The glorious summer is reaching its peak and we haven't quite started the gentle slide into autumn. This is the perfect moment to consider spending some time at one of Door County's many farmer's markets. Local growers and makers bring the very best and freshest of their produce and crafts to sell and now is the time to buy! There are weekday and weekend markets offering something for everyone.
Get yourself settled in a delightful room at Julie's Motel, a lovely condo at Evergreen Hill, or a fabulous cottage at Countryside. It's never a good idea to shop for food on an empty stomach, so be sure and fuel up with a hearty breakfast at Julie's Park Café. Now…let's explore the farmers markets!
Starting up north, Sister Bay's Farmers Market comes with a bonus! It's located at the Corner of the Past Museum, 10310 Fieldcrest Rd. Running Saturdays, 8:00am-12:00pm through October 5, the market offers, "fresh produce, sauces, honey, meats, eggs, flowers, bakery, jewelry, wood products, and photography." In addition to the market, there are both self-guided and docent-led tours of the Old Anderson House Museum and the Corner of the Past Historic Buildings. There are also musicians and artists performing at the Koessl Barn. For more information, take a stroll over to: www.sisterbayhistory.org/museum/.
Moving south, the Baileys Harbor Famers Market takes place on Sundays from 9:00am-1:00pm at the town hall on Highway 57. This market has over 35 vendors offering fresh produce as well as, "handmade jewelry, fresh cut flowers, art-work, shrubs and trees, bakery, fresh cheese, and much more." When the cold weather takes over, the Baileys Harbor Farmers Market goes indoors to the town hall auditorium, one Sunday a month (except for three in December) through April. Get the full scoop at: www.baileysharbor.doorcounty.com/events/farmers-market/.
On Tuesdays, stop by the Jacksonport Farmers Market. Located at Lakeside Park on Highway 57, this market runs from 9:00am-1:00pm through the end of October. When you're done exploring, take some time to enjoy the beautiful views of Lake Michigan! Get details at: www.jacksonport.net/.
Going west across the peninsula brings you to the Fish Creek Famers Market on Wednesdays from 9:30am-1:30pm. You'll find fresh produce, crafts, and local authors. Mid-morning music makes for an extra special experience! This market is weather dependent, so be sure to check the weather report. For the full 411, go to: www.visitfishcreek.com/members/the-settlement-shops.
The Egg Harbor Business Association and the Village of Egg Harbor sponsor an Egg Harbor Farmers Market every Friday, 9:00am-1:00pm through October 25. Located at Harborview Park, visitors will find fresh vegetables, fruit, cheese, meat, canned produce, syrups, jams, jellies, and crafts. This is also a great opportunity to see the amazing views of the Green Bay waters. Local musician Jeanne Kuhns will have her last farmers market performance on September 6. For more information, scramble over to:  http://www.eggharbordoorcounty.org/events/farmers-market/.
The Sturgeon Bay Farm Market is a big one! Happening every Saturday from 8:30am-12:00pm, you can find it in the Market Square parking lot between Michigan Street and Nebraska Street. Visitors will discovers locally grown produce, crafts and flowers. Go early because this one gets busy! For more info go to: www.sturgeonbaywi.org/departments/parks-and-recreation/community-recreational-information/.
All that shopping has surely worked up an appetite! Head back to Julie's Park Café for a lunch to get you energized again.
Until we chat again…