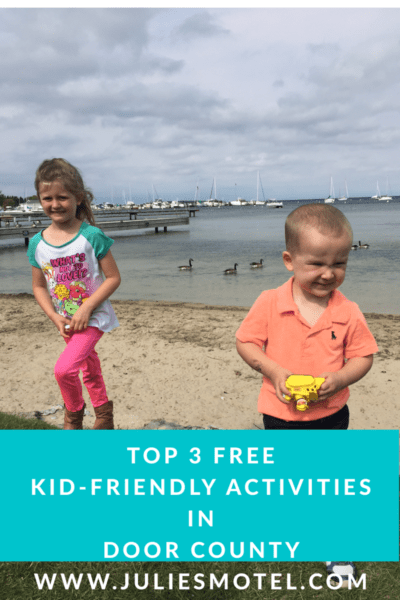 In the last blog we discussed the top 3 things to do in Door County according to Julie's Facebook following. This time I want to focus more on one specific portion of Door County visitors- those traveling with children. My children are currently 2 and 5. I love living here because there are always so many things to do with the kids. I grew up in another small community in Wisconsin- Antigo. While I loved it there and have many great memories, there wasn't nearly as much to do there as there is here in Door County. We have a house in Sister Bay and our business in Fish Creek so we love g in both communities as well as others. Its so nice to be able to go outside during the summer and have things to do. Door County is definitely a magical place to live. I have picked my top 3 things to do with my kids in Door County
---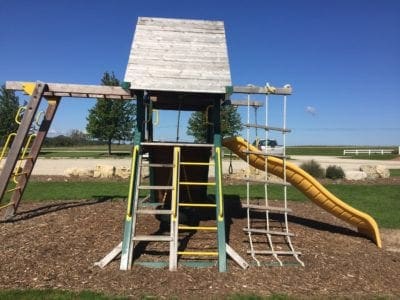 Visit the parks
When I say parks, I mean the ones with the swings and slides. Door County has a great natural park system but that's not the kids of parks I"m referring to with this. Each village from Ellison Bay to Egg Harbor to Bailey's Harbor has a great playground for the kids. Each is different and w like to rotate which ones we visit. The park in Sister Bay is the one we frequent the most as its closest to our house and has a beautiful view. The kids love the swings, glider, slides and monkey bars.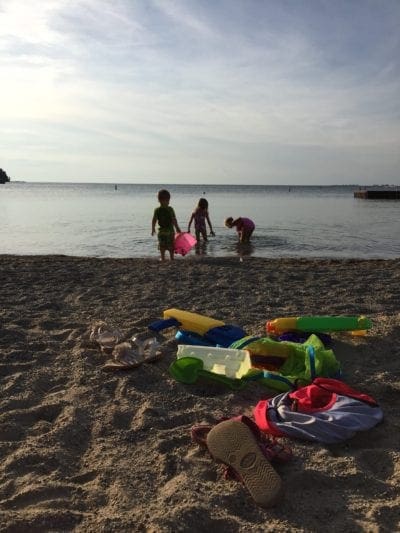 Going to the Beach
Many great beaches exist around the county. While some are better if you have your pet with you (White Fish Dunes Beach and Frank E Murphy Park), others are better with kids. The beach in Sister Bay is really good because you have the park there too. It also has showers and feet washers to deter some of the sand from entering your car. I also like the one in Fish Creek as you can walk to it from Julie's. Its just a couple blocks up the road so there's no need to find a parking spot in the busy downtown area. There is a small playground there as well.
One of my secrets about going to the beaches in Door County is to go in the evening. Evening summer weather is beautiful and with the sun going down so late, I like to feed the kids an early dinner and hit the beach at 6 pm. The weather is still warm and the beach isn't as crowded. You can easily find a spot to park.
Hike in Peninsula State Park
This is where I like to refer to the natural park system. The location of Peninsula State Park is super convenient to Julie's Park Cafe & Motel as we can park in our parking lot and walk into the park. This year we have gotten into hunting for mushrooms. Mushrooms are plentiful in the park and its fun to see what we can find. (I caution that you should educate yourself before picking and eating any you find.) The kids love this because they feel like its a treasure hunt. Its also a learning experience for them as we bought a book so we can figure out wheat types they are and different characteristics of mushrooms. Of course, there are many great things to see on the hiking trails in Peninsula State Park. You can make your own adventure.