We tend to visualize a chilly winter day as the perfect time to cozy up by the fire, sipping a warm drink. This is true. It is also equally true that a chilly winter day is the perfect time to bundle up and head to the great outdoors. There is no place where this is more enjoyable than in delightful Door County! I shared the joys of summer hiking, but today I'd like to chat a little about the best places to GO TAKE A WINTER HIKE (or snowshoe or cross country ski).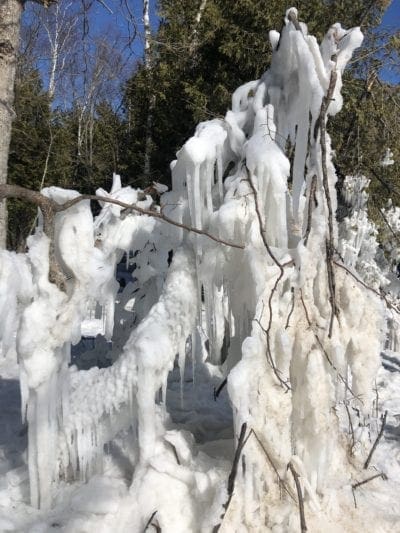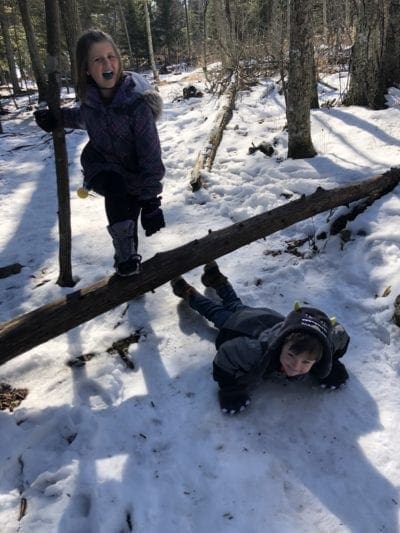 A wonderful place to start is with a wee bit of snowshoeing! For you newbies out there, head over to The Ridges Sanctuary in Baileys Harbor for a guided snowshoe hike. Each hike is guided by one of the resident naturalists. The Ridges has a rich history and culture. Winter is a nice, relaxing time to explore the natural beauty available in this unique Door County treasure. If there isn't enough snow cover, then the snowshoe experience will magically turn into a winter hike!
For more experienced snowshoers, try out the Black Trail at Whitefish Dunes. At 2 ½ miles, the trail offers a combination of forest and limestone bedrock to hike over. It starts close to the shoreline in full view of the waves of Lake Michigan and continues through shrubs and into the giant hardwoods. Peninsula State Park offers a Loop Trail that begins at the Nature Center. It's a 1.5-mile trail and crosses the White Cedar Nature Trail. Eventually it splits and moves across the escarpment, looping down to the Sunset Bike Route/Hidden Bluff Trail. At last it brings snowshoers/hikers back to the Nature Center. Expect to see forests, meadows, bluffs and other natural beauty along the way. Need snowshoes? Both Nor Door Cyclery in Fish Creek and Bay Shore Outfitters in Sister Bay are places where you can rent them.
In Door County, every State Park has cross country ski trails that are groomed and ready to go! This includes Peninsula State Park, Newport Beach, Whitefish Dunes and Potawatomi State Park. In addition to classic cross country, some of the trails are also groomed for skate skiers. All of the state parks offer incredible views of both the lake and woods. There are some trails groomed at nature preserves like the Door County Land Trust properties.
Another popular spot for snowshoeing and cross country skiing is Crossroads at Big Creek in Sturgeon Bay. According to their website: "Crossroads at Big Creek lends, free of charge, an array of ski and snowshoe equipment, sizes to fit age 3 through large adults. When trail conditions permit, go to the Crossroads Maintenance Building where our volunteers will fit you with equipment, share a few pointers and a trail map and send you out on groomed (classical and skate) ski or hiking trails. When you have finished, return your equipment and enjoy a cup of hot chocolate" All this is available on Saturdays and Sundays from 1:00-3:30pm when snow is adequate.
We may be in the midst of an unusual warm spell, but it's still early March. There's bound to be snow coming to Door County again before Spring. Be prepared and ready to hit the trails! Watch the weather and get ready to head up here to enjoy the last of this winter's outdoor fun!
Stay tuned for the next blog and more info from the DC peninsula!