We are OPEN for the season! See you soon!
We are very excited to celebrate our 17th season of being among the restaurants and motels in Door County, WI!
Julie's Park Cafe & Motel is a family-owned and operated business. Since 1998, we have employed a diverse staff from around the world to make your stay unique.
In addition to our Fish Creek, WI lodging, we have a casual cafe serving breakfast, lunch and dinner. We have a convenient carryout counter, which specializes in bakery items, sandwiches & espresso drinks. We use local ingredients whenever possible.
If you are looking for pet-friendly vacation ideas, we are among the few Door County motels that are pet-friendly. Our outdoor dining patio is family-friendly and allows pets, making us a great dog-friendly vacation spot. So bring all your loved ones!
Julie's Park Cafe & Motel is among the hotels near Peninsula State Park, WI. In fact, we are located at the Fish Creek entrance to the preserve, so some refer to us as a Peninsula State Park hotel. Since the park has the largest concentration of trails for hiking and biking in Door County, you might find that Peninsula Park lodging is optimal. Book with us for the best in motels in Door County, WI.
Our Fish Creek motel is located just minutes away from golf, tennis, boating and swimming in the shimmering Green Bay waters. Within walking distance are unique shops, other Fish Creek restaurants, the Peninsula Art School, Door County Auditorium, the beach, and live entertainment… all perfect for Door County vacations.
Enter as strangers, leave as friends.
Submit Your Photo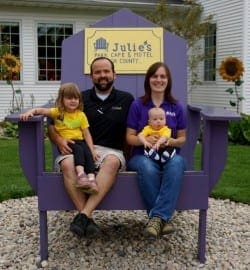 Have a great photo from your visit to Julie's that you'd like to share? Your photo could be featured on our website!
About Us
Julie's Park Cafe & Motel is conveniently located in Fish Creek at the entrance to Peninsula State Park. Our customers love this location where they can walk or bike right into the park. The restaurant and motel are also within walking distance to shops and the beach … read more
Recent Posts
June 12, 2014
If you've driven through Egg Harbor, Door County this summer you have seen the egg art in front of the local businesses. I had seen them driving through so we decided to have a tourist afternoon in Egg Harbor. We parked the car and took a walk through town. The Village of Egg Harbor is celebrating 50… continue reading