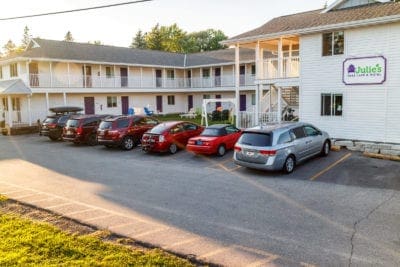 Motel is now open year round!
If you are looking for motels in Fish Creek, WI, check out Julie's Motel. We are a family- and dog-friendly Fish Creek motel & cafe. We are located just minutes away from all Fish Creek has to offer, including the best in Door County restaurants. Julie's Motel is a 10-minute drive from popular Egg Harbor, and 35 minutes from Sturgeon Bay, Wisconsin. Our new motel is in the same footprint as the previous motel, right next to our café.
We offer our guests
Squeaky-clean rooms
Free wireless internet
Friendly staff to address all your questions and needs
Pet-friendly rooms available
All non-smoking rooms
2 story motel (no elevator) – Please let us know if you need a first floor room when making the reservation.
Please let us know if you have allergies and can't be moved into a pet friendly room.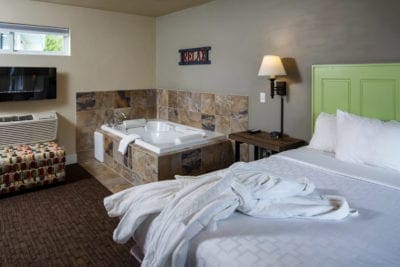 Every season has something special to attract visitors to Door County. From the awakening of spring, to summer's refreshing breezes, to autumn's panorama of spectacular colors, to the quietness of winter… we have it all!
Looking for dog-friendly vacation ideas? Whatever your pleasure, we are here to provide cozy, convenient Door County lodging, and to make your stay in Door County a memorable one. We look forward to seeing you soon.
Rates
2018 Seasonal Rates
Single and Double occupancy rates, $10.00 per each additional person per night. Additional $15 per day for dog. Additional $5 per day for cot. Weekend rates apply to holidays and festivals.
Off Season Rates start at $60 for a king room
Peak Season Rates start at $125 for a king room
Call or click book now below to check rates for your stay
Room Descriptions
Room Descriptions
ALL MOTEL ROOMS NEW AS OF MAY 2016!
King Room: 1 king bed, twin sleeper sofa, fridge, hairdryer, cable TV, air conditioning, heat
2 Queen Room: 2 queen beds, twin sleeper sofa (non pet rooms) or two chairs (pet friendly rooms), fridge, hairdryer, cable TV, air conditioning, heat
King Whirlpool: King bed, loveseat, electric fireplace, fridge, microwave, coffee pot, whirlpool in room, cable TV, air conditioning, heat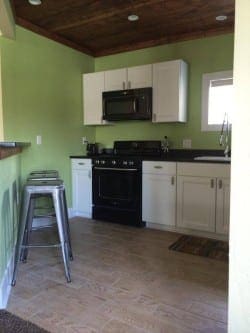 Cafe Suite: Above the cafe, 2 bedrooms-one with 1 queen bed and other with 2 queen beds, Living room area with sleeper sofa, full kitchen, dining room area, 2 full bathrooms, cable TV, air conditioning, heat.
Photo Gallery
Check-In Information
Check-In: 3 pm
Check-Out: 10:30 am
All rooms are non-smoking
Pet-Friendly rooms available
Some two-night and three-night minimums apply. Rates do not include applicable taxes. Rates subject to change without notice.
One night deposit required to reserve a room (Room rate plus tax). Balance is due upon check-in.
CANCELLATION POLICY:
In the event you must cancel your reservation, your deposit will be refunded (less a $10 office charge) provided your request is received 10 days prior to your arrival date. If less than 10 days notice is given, there will be no refund. (If you booked on a third party website, such as booking.com, expedia or hotels.com, your reservation follows the cancellation policy on that website.)